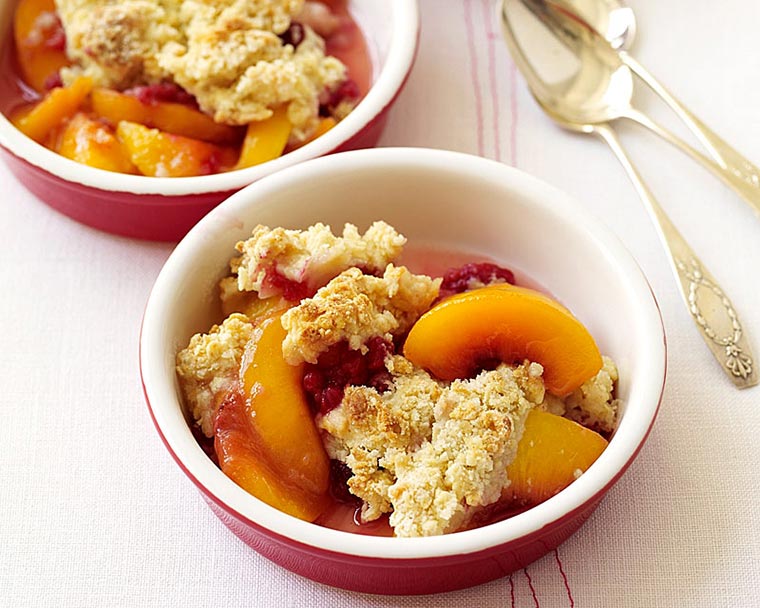 Get more recipes
Raspberry-peach cobbler
Total 1 hr
Prep 15 min
Cook 45 min
Serves 8
Ingredients:
Peach(es)

6 medium, halved, pitted and thinly sliced (about 1 ¾ lbs)

Powdered sugar (confectioner's)

3 Tbsp

Fresh raspberries

1 cup(s)

All-purpose flour

¾ cup(s)

Sugar

3½ Tbsp, granulated, divided

Baking powder

½ tsp

Baking soda

¼ tsp

Table salt

¼ tsp

Regular butter

3 Tbsp, cold

Light sour cream

⅓ cup(s)

Vanilla extract

1 tsp
Instructions:
Preheat oven to 350º. Place peaches in a medium bowl; toss with powdered sugar until sugar dissolves. In an 8-inch square baking pan, arrange peach slices in several layers; sprinkle raspberries over top.
In a large bowl, combine flour, 3 tablespoons of granulated sugar, baking powder, baking soda and salt. Cut butter into flour mixture and work in with a fork or pastry cutter until flour resembles coarse crumbs. Add sour cream and vanilla; mix with a fork until dough comes together.
Place clumps of crumb mixture over fruit; sprinkle with remaining 1/2 tablespoon of sugar.
Bake until top is golden brown, and fruit begins to bubble, about 40 to 45 minutes. Cool 10 minutes before serving.
Yields about 1/2 cup per serving.
Raspberry-peach cobbler
Weight Watchers
45 Minutes
15 Minutes
This cobbler is lightened up by using reduced-fat sour cream and far less butter than most traditional recipes. Feel free to substitute thawed, frozen fruit for the fresh fruit, if desired.
snack, dessert
Get more recipes