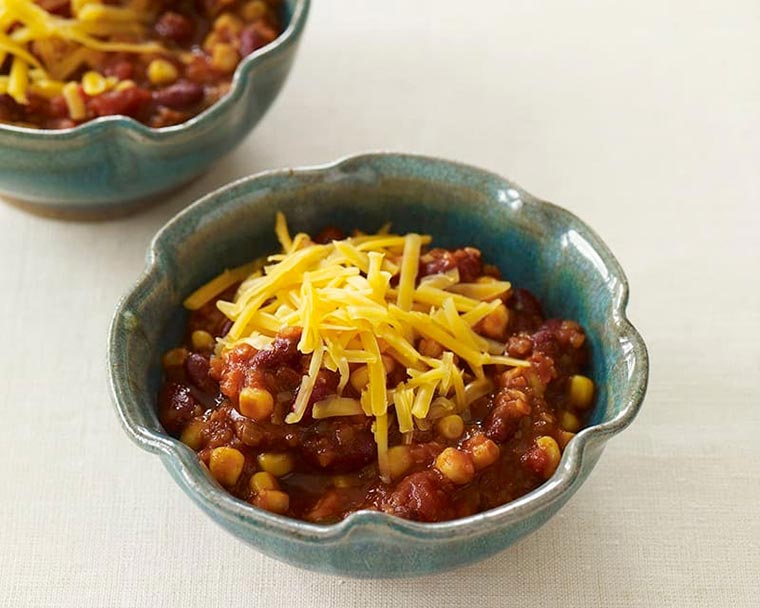 Get more recipes
Quick vegetarian chili
Total 20 min
Prep 12 min
Cook 8 min
Serves 4
Ingredients:
Extra virgin olive oil

2 tsp

Garlic clove(s)

1 medium clove(s), minced

Stewed tomato(es)

14 ½ oz

Canned kidney beans

15 oz, rinsed and drained

Canned yellow corn

15¼ oz, drained

Canned tomato sauce

15 oz

Chili powder

1 Tbsp

Dried oregano

½ tsp

Crushed red pepper flakes

½ tsp

Dehydrated onion flakes

¼ tsp

Black pepper

¼ tsp

50% reduced fat sharp cheddar cheese

¼ cup(s), shredded
Instructions:
Heat oil in a large, nonstick, heavy-bottomed pot over medium heat. Add garlic; cook, stirring frequently, until aromatic, about 2 minutes. Add tomatoes, beans, corn, tomato sauce, chili powder, oregano, red pepper flakes, onion flakes, and pepper; stir well.
Increase heat to high and bring chili to a boil; cook, stirring frequently, until chili is thick and flavors are concentrated, about 5 minutes. Spoon into serving bowls and sprinkle with cheese.
Serving size: about 1 1/4 cups chili and 1 Tbsp cheese
Quick vegetarian chili
Weight Watchers
8 Minutes
12 Minutes
You are going to fall in love with this hearty, vegetarian chili that comes together in just 20 minutes.
lunch, dinner
Get more recipes